Explore Digital Storytelling
The web allows a much richer form of story that simple text. You can use photos, sounds, film, animations and interactivity.
---
Inspiration
Below is a collection of what might be called digital storytelling sites, all very different from each other. Spend some time immersing yourself is some of them, making note of what aspects you like of this loose genre.
Tools
Of course, you may need to use a variety of tools editing images, videos, audio and text but below are some tools you might want to try.
Sway and StoryForm do a great job of letting you piece media together then making a fantastic looking article.
EKO lets you create an branching interactive narrative, like Bandersnatch, but you will need a collection of short videos to be able to use it. You might need to use Twine, a tool for creating interactive narratives, to plan your script.
With Tilda you can simply and easily create a beautiful web site, or with Blurb create a photo book for print.
But equally you could use almost any of the other tools on this site to tell a compelling story.
Learning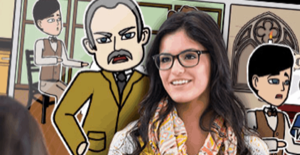 6 Reasons You Should Be Doing Digital Storytelling with Your Students
https://www.gettingsmart.com/2016/01/6-reasons-you-should-be-doing-digital-storytelling-with-your-students/