Before We Start: Choose Three Things
Before we start, I'd like you to choose three things.
It doesn't matter what three things you choose.
---
Inspiration
Each might be an animal, a concept or place. Or a person, a brand and a point in time. Or a word, weather and a feeling.
IT DOESN'T MATTER WHAT THEY ARE!
And you can change them at any time, or have more than three.
With lots of the exercises, you will need some raw materials to work on, images, sounds, texts, data so let's go get three random ideas. Your chosen things can be anything. You might already have three things you want to work with, great, but if not let's use these random sites to magically bring three things to you.
USE THE RANDOM TOOLS AT THE BOTTOM OF THIS PAGE TO HELP YOU.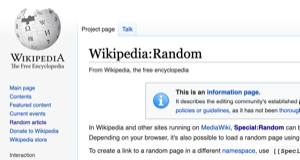 Wikipedia Random
https://en.wikipedia.org/wiki/Wikipedia:Random
Click on the Special:Random link to get real items to use in your writing. I got "Swarfega" and a Serbian footballer.
Resources
If you have decided on three things, if you want you can use these resource sites to go and collect some pictures and sounds etc.
Tools
There are the tools that might provide some things you'd like to work with.